Original text from 'Bossa Nova Flauta For Improvisation' by Haruka Okubo.
Published by Chuo Art Publishing Co.,Ltd.
1. About Bossa Nova

Bossa Nova means new feeling in Portuguese in Brazil. It's a mixture of samba and samba cancao (samba ballad) rhythms and harmonies of jazz and classical music. In 1958, 'Chega de Saudade', written by A.C.Jobim (1927-1994) became a great hit in Brazil. This song made Bossa Nova widely known to people. The way Joao Gilberto (1931-) sang, like whispering, and his guitar playing with a swing feel were very popular among young people at that time.
After that, a French movie 'Orfeu Negro' (in 1959, music directed by A.C.Jobim and Luiz Bonfa), 'The Girl From Ipanema', sung in English by Astrud Gilberto (1940-) and other bossa nova music played by Stan Getz and other American jazz musicians made Bossa Nova popular all over the world.
Recently in Japan, Bossa Nova is known and popular as easy listening music, and you can hear at many places.
2. Rhythms and guitar playing

The reason why Bossa Nova holds appeal for people is because, it has a rhythm with a unique swing feel that guitar creates. Joao Gilberto came up with his original guitar playing by getting some hints from samba. Let's take a look at the basic guitar line and think about the rhythm.
Bossa Nova guitar playing was created under the influence of samba. Bossa Nova and samba may sound like totally different types of music. What's in common?
When you play samba, it may be helpful to look at the rhythm patterns of typical Brazilian percussion instruments; surdo, tamborim, and ganza. One of the rhythm patterns for each instrument is shown below. Let's compare these rhythm patterns and the introductory guitar part of 'The Girl From Ipanema'.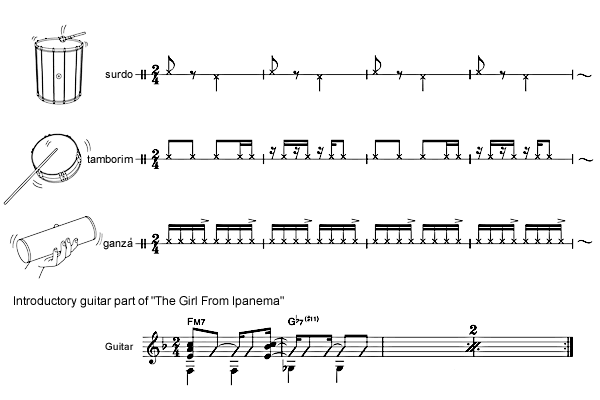 The low guitar notes (on guitar, F and G flat) show the surdo part, and the harmony without the bass part is played with tamborim (sometimes ganza).
This is one of the ways to learn about Bossa Nova rhythm.